Being in business with customers from another country brings a constraint that we do not always think about: jet lag and its consequences.
Indeed, if I set up a telephone appointment with my Swiss client for 9 o' clock, it would be better if we both spoke from the same time.
But in fact "his 9 am" is for me 3 pm when I am in Malaysia, or even 4 pm if winter time is active in Switzerland.
How to manage this double time zone?
There are several solutions that work quite well most of the time, such as :
Add more clocks with an application on your phone like "Simple World Clock Widget".
Set the clock on your computer by adding up to two additional clocks.
Wear 2 watches at the same time on your arm.
However, the method I prefer is to use a paper organizer with double time zones.
But there is no such thing, you might say!
The double time zone paper organizer
I admit that until now, I have not found an organizer that meets my needs in stores, even specialized ones. So I designed it myself.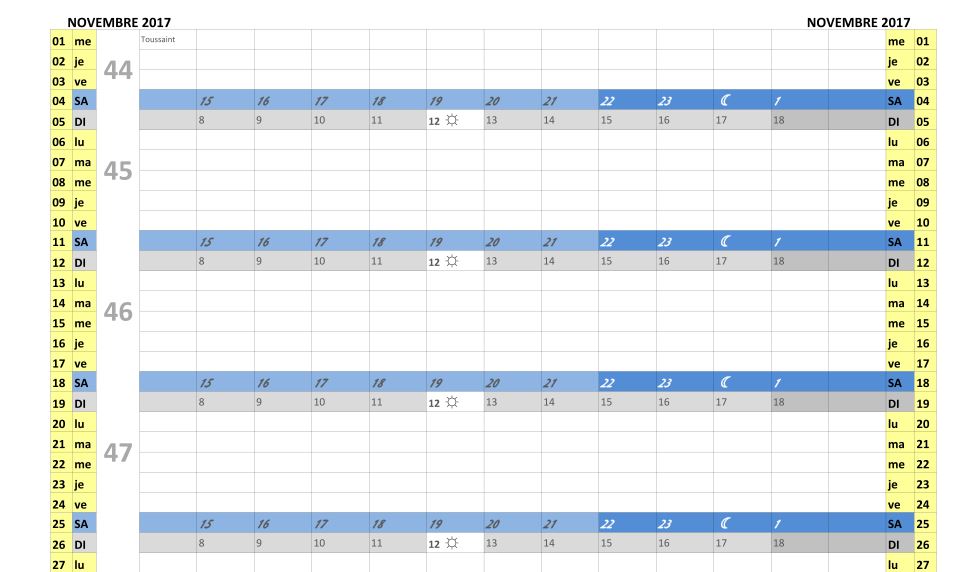 Want to test it?
You will find below the months of November and December 2017 to download. It's free!
Download the document. This is an A4 page in PDF format.
Print this page.
Cut it in half to separate November from December.
Fold these 2 sheets in 2 again and snap them together.
There you go. Your sample A6 paper organizer is ready. Good test!
Download link: Organizer Switzerland – Malaysia in French (pdf 45 ko) : [download-attachment id="254″ title="mso-exemple-agenda-nov-dec-2017″]