Malaysia is an incredible country. People are welcoming, smiling and so joyful… For me, it's like Christmas every day.
Christmas in Malaysia is a nice mix of flashing lights, carnivals and school summer camps. You won't find any real snow there nor real Christmas trees. You will also not smell the scent of burnt pine resin nor the one of the cinnamon cookies of your childhood. On the other hand, if you pay a little attention, you will find a joy of living on every street corner.
Christmas in Malaysia… how it is like?
Christmas… it's multicolored and multicultural… it's bright and sparkling… it's shiny and flashing… it's full of goodwill and above all… it's warm, smiling, happy and joyful.
To see some great decorations, don't hesitate to visit a large shopping mall. It's where they are the greatest. I never fail to admire them, even if they lack this little something alive, which I find in other simpler decorations.
I even know of a restaurant that keeps its Christmas decorations, hung all year round, just because it gives a nice festive atmosphere to its business.
What touches me also is the effort they put into making their decorations look like those made elsewhere in the world. They even try to imitate snow… but it isn't so easy to make snow, when you never have touched it nor seen it with your own eyes.
They know how to celebrate the present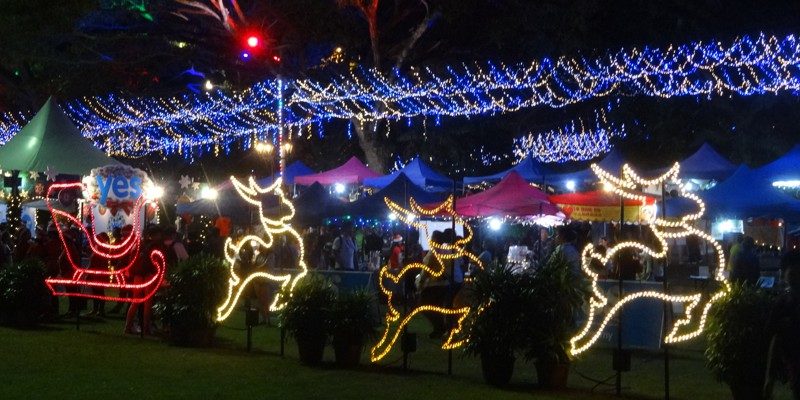 From the beginning of December, Christmas carols are played in a loop in almost all stores. There is no way to lose a day of festive spirit. I love this atmosphere and when I hear the "Jingle Bells", its joyful carillon gets inside me and puts me in a good mood for the rest of the day.
I admire seeing them wearing a Santa Claus hat or a goblin's hat or even reindeer horns, without worrying a second about "what the others may say". I don't think I could do that. At least not yet.
It seems to me, that here in Malaysia, the Christmas spirit is everywhere, every day. Whatever their profession, age, skin color, ethnic or religion, it doesn't matter, they contribute to the joy of the moment. They still know how to live spontaneously in the present, without waiting for a hypothetical future.
In our place, we always had to wait
At the Christmas times of my childhood, it all started with an advent calendar. It revealed, day after day, only one surprise at a time. It allowed us to count the days and wait until it was finally Christmas.
To decorate the Christmas tree we used the decorations from previous years, carefully preserved, to which we added some new ones. I don't remember seeing glowing lights on our tree or even daring to light a single candle before Christmas Eve. Here again, we had to wait.
My family used to say to mark Christmas as a very special day "It's not Christmas every day". So when Christmas came, I was only waiting one thing, the moment to unpack the presents. Because finally I could enjoy and celebrate.
The joy of living the present again
Before leaving Switzerland, it was as if it was never the right time to enjoy or do something with pleasure.
I can still hear the… Not now… Tomorrow… Maybe… Later… When the work is finished…… When we have a vacation… When it's your birthday… When it's summer… After having done the laundry… When I get retired… etc… As if we had plenty of time. As if the future to come was a certainty, an asset, a right.
Since I have been in Malaysia, I have learned again how to live here and now. Accepting the gift of the present moment, for me, it is …
.It is FEELING the gentle touch of the wind. It's to THANKS the day for what it brings to me. It is SMILING at the people you meet. It's to BE DELIGHTED to see a stranger's face illuminating like a sunshine because she just received a $2 chocolate bar.. It is to TAKE IN YOUR ARM the one you love. It is to SHARE the same plate of pasta, on a one-on-one base, at the local market. It is TO BE THANKFUL to life for each experience it offers me to live…
It's all these things that when I realize them, makes life WONDERFUL and MAGIC. I received a great gift when I came to live in Malaysia. Now, for me, it's Christmas every day.
Merry Christmas to all, sincerely
— Suzanne —